We use different techniques to form and shape the original artistic design of the eggs.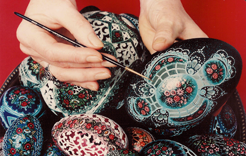 At the beginning of the production process a dark coat of textile colour is applied to the blown out egg in order to produce a contrast when the individual design is applied later.
Next the basic design, flower and butterfly decoration is added. We apply the designs using an old scratch technique developed in the Czech Republic. After that comes the next step in the creative process - the perforation. At this stage the types of drill and mill cutter that dental technicians and goldsmiths use are employed. These hard metal and diamond tipped tools are powered by high performance drives, which can reach 200,000 r.p.m. The extremely high r.p.m. is necessary to ensure that the filigree designs and patterns are as fine as possible.
I would like to read more about the work techniques.