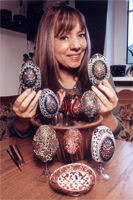 The artistic home of opera singer Sonnhild Roessler and actor Harro Korn is inVorpommern, not far from the hanseatic town of Greifswald.
Twenty years ago it started as a hobby for both artists. Over time they perfected the design and production techniques of the Easter eggs. The Easter egg production process is divided into two parts. Sonnhild Roessler is responsible for the design of the artistic motifs such as flowers and butterflies. Whereas Harro Korn attends to the filigree perforation of the Easter eggs.
In 1989 Sonnhild Roessler and Harro Korn took the opportunity to participate in exhibitions, fairs and art markets throughout Germany. Their creations were received with enthusiastic approval and admiration not only in Germany, but also in France, Austria and Switzerland.